Training Video Production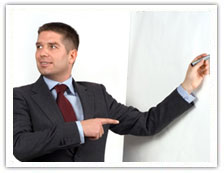 Training Videos made by showboat put great emphasis on the following elements which we feel are a must have:

Motivate and Instruct
Keep Them Awake
Audiences don't Multifunction
Leadership by Good Example
Bring it to Life with Actors, Presenters and a Cast
Sound bites create Peer Group Influence
Graphics Tell it Better
Writing the Ideal Training Video Script
Have a Follow-Up Discussion
Figuring out the Price of your Training Video
We at showboat entertainment understand the need to have a judicious yet effective video for training and education purpose.  We at showboat believe that possibly the best piece of advice to give someone thinking of producing their own training video is to put yourself into the mindset of your audience. No matter what it is that you want to tell them, if you don't do it in a way that fits their world view, then straightaway you lose vital credibility. On the other hand, if you can express yourself in your programme in a way that the audience can directly relate to and enjoy, then there's every chance they'll open their minds to let your training message in.
To get the most from your corporate training programs. Before you spend the money on a one-time corporate training event, why not consider capturing it on video for future use? Or better yet – skip the event and film the trainers for our sound-stage or on location to bypass the event costs all together. Showboat entertainment is your destination for all video production requirements.