Coporate Video Production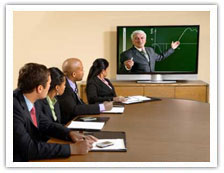 Whether it's a video for sales and marketing, public relations, training, internal communications, or a full redesign of a corporate web site, our clients know they can count on us for strategic full-service creative, development and production. Showboat Entertainment is your one stop shop for all your video production needs.
We begin every video production and every web site assignment the same way. We listen. We ask questions.
We work with your team to create the right message for the right audience to get the right results.
A well-executed corporate video would ideally be a perfect fusion of content, graphics, video, music, voiceover and special effects. It should be created keeping in mind the purpose of the corporate video and the audiences that will view it. At Showboat Entertainment we believe in creating corporate videos that reflect your business values and your commitment to your clients and customers. Corporate video presentations are ideal for showcasing the working of industrial units, facilities of corporate companies, educational institutions etc or outdoor activities of an organization or its people.

As part of end-to-end video production service, we can handle the following:
• Storyboarding / scripting for the demo
• Voiceover recording
• Graphic design and animation
• Video recording
• Digital photography
• Background music score
• CD case design and CD/DVD production
A corporate film is a reflection of corporate identity and strategy. They are targeted for internal and external communicational needs of a company.
Corporate films can effectively convey the message in a very dynamic and persuasive manner.
Audio/Visual communication is one of the most effective means of communication, specially when one needs to communicate to many.
Corporate Filmmaking is the process from an initial idea through scriptwriting, shooting, editing, animations and finally delivering to the client.
Contact us to create a film for you. Choose from the types listed below:
· Corporate Film / Corporate Video / Corporate AV
· Conference & Events Coverage Film
· Skills Enhancement Training Film
· Promotional Film
· Induction Program Film
· Motivational Film
· Felicitation Film
· Product Information Film
· Product Launch Film
· Technical Support and Self-Help Film
· Corporate Annual Progress Film
· Brand Building Film
· Product /Services Demonstration Film
Contact showboat entertainment for creating effective corporate videos